Lucyna Viale
"Wuerfel"-1mx1m 3D. insstallation objekte+Titel
Iwona borkowska und Lucyna Viale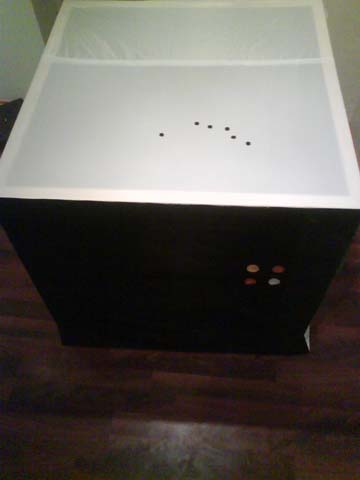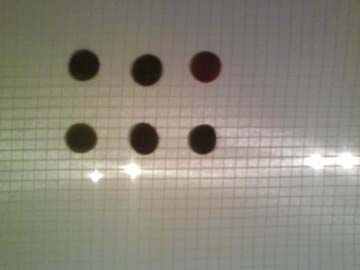 "...wir ließen irrationale Bilder aufsteigen,ohne jede Erklärung."Louis Bunuel,Objekte der Begierde
Lassen wir den Erklärung.Ein Würfel aus den Beleuchtungstoffen,man hat mehr Licht, weniger Licht oder kein Licht.
Man hat 6 oder 1,Glück oder Pech oder andersrum.
Das Leben ist ein Spiel oder ein Spiel ist das Leben.
Iwona Borkowska
CV
Lucyna Viale geboren 1961 in Kalisz/Polen.Seit 1988 lebt und arbeitet in Berlin/Deutschland.Studium an der Werkstatt für Textiles Gestalten Berlin 1996-98. 1985-88 Studium an Staatliche Pantomime-Theather in Warschau.Lucyna Viale bedient sich in verschiedener Medien:Installation,Objekte, Textil ,Fotografie.
Ausstellungen(Auswahl):-
Wedding Dress 2008,Festival of Fashion and Arts,gruppenausstellung
"Europa-Kunst ohne Grenzen",Teatr Nowy Krakow/Polen 2007 /Installation "Zielone Swiat"/- gruppenausstellung
"Kunst", Neues Kunstquartier Berlin 2007,gruppenausstellung
"Attitude/ Elementi", Center for Contemporary Public Arts-video/short,experimental film/photography festival, Bitola/Makedonien 2006 /Fotografie "Them"/
"Easy Transport", Museum für Zeitgenössisches Kunst Skopje/Makedonien 2006
/Installation "Room 2-Zwischenrealität"/gruppenausstellung
"Sehensucht,Inc", Landkommende Alden Bilsen/Belgien 2006 /Installation "Room-Zwischenrealität"/gruppenausstellung
"Room",Installation, Galerie Zgrzyt Berlin 2006
"Eingang", "Speak Easy",Foto und Installationen Atelier BabBelle /Berlin 2006
Lucyna Viale was born 1961 in Kalisz/Poland.
From 1985-1988 she has studied at the public theater school for pantomime in Warsaw/Poland.
Since 1988 she has been living and working in Berlin/Germany.
From 1996-1998 she has studied the art of textile working at the "Werkstatt für Textiles Gestalten" in Berlin.
Lucyna Viale engages in different materials and media, such as installations, objects, textile works and photography.
Some of her exhibitions:
Wedding Dress 2008, Festival of Fashion and Arts, group exhibition
"Europa-Kunst ohne Grenzen",Teatr Nowy Krakow/Polen 2007 /Installation "Zielone Swiat"/- group exhibition
"Kunst", Neues Kunstquartier Berlin 2007, group exhibition
"Attitude/ Elementi", Center for Contemporary Public Arts-video/short,experimental film/photography festival, Bitola/Makedonien 2006 /Fotografie "Them"
"Easy Transport", Museum for Contemporary Art Skopje/Makedonien 2006
/Installation "Room 2-Zwischenrealität"/group exhibition
"Sehensucht,Inc", Landkommende Alden Bilsen/Belgien 2006 /Installation "Room-Zwischenrealität"/group exhibition
"Room",Installation, Galerie Zgrzyt Berlin 2006
"Eingang", "Speak Easy",Foto und Installationen Atelier BabBelle/Berlin 2006