Timo Kahlem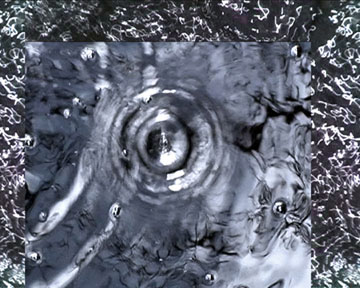 white noise (# II), 2006 – 2008, video, 3 min 44 s
Synopsis
The video "white noise (# II)" by Timo Kahlen ironically recreates a signal fundamental to video art: white noise, the absence of any recorded information. While the phenomenon of white noise itself is a component of prior analog states of video technology - and has been eliminated through the use of new, digital video techniques today -, its abstract quality has been of interest to numerous video artists since the 1960s.
In the short, conceptual video "white noise (# II)", Timo Kahlen playfully re-creates the technical phenomenon as an analog (and analogous) process: by letting multiple raindrops disturb a reflecting surface of water, he conveys and hides the given image – creating chaos and clarity at different points in time. White noise, the (visual and acoustic) absence of a meaningful information, in itself becomes a substantial part of the information conveyed to the viewer, allowing him to catch only short glimpses of the actual image recorded on tape.
Images attached ! (jpeg, copyright "Timo Kahlen/VG Bild-Kunst 2006-08")

CV
Timo Kahlen, installation and sound artist (*1966) nominated for the German national "Sound Art Prize 2006" (Deutscher Klangkunst-Preis), lives and works in Berlin. Timo Kahlen has been working with sound, light, wind and other experimental media for over 20 years. Having received his "Master of Fine Arts" at the Hochschule der Kuenste Berlin in 1993, Timo Kahlen has received a number of scholarships and has exhibited his work – mainly throughout Europe - in more than 70 solo and group exhibitions.
Selected Projects in 2005-2008:
"The Sonic Image", Totally Huge New Music Festival 2007, Perth (AUS) / "Timo Kahlen: Noise & Beauty", Weltecho Galerie (ex-VOXXX), Chemnitz (D) / "Timo Kahlen: Beehive Project" with Ranjit Makkuni, Gandhi Multimedia Arts Museum, New Delhi (India) / "Sound Art 2007", Traumzeit-Festival, Duisburg (D) / "Strictly Berlin 2007", Galerie der Kuenste, Berlin (D) / "Timo Kahlen: Earcatcher", Ruine der Kuenste Berlin 2006 / "Sound Art 2006", art Cologne (D) / "Deutscher Klangkunst-Preis 2006" (Sound Art Prize 2006), Skulpturenmuseum Glaskasten Marl and WDR3 / "Figures in Motion: International Video Art", Schloss Plueschow (D), "Directors Lounge", Berlin 2006 /"Timo Kahlen: Media Dirt" 2005 and "Timo Kahlen: Diodenzwitschern", Ruine der Künste Berlin, Berlin 2005