Paulo C. Chagas
http://www.music.ucr.edu/people/faculty/chagas/index.html
http://www.composers21.com/compdocs/chagaspc.htm
Paulo C. Chagas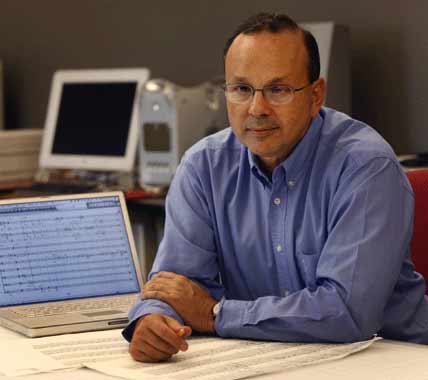 Professor Paulo C.Chagas is composer, theoretician and researcher in music technology. He has composed more than 100 pieces - ballet music, operas, musical theater works, multimedia works, pieces for orchestra, instrumental and vocal ensembles, electronic and computer music. His works have been performed in Europe, Russia, the USA, and Latin America to both public and critical acclaim. Chagas worked for ten years (1990-99) as Sound Director of the Studio for Electronic Music of the WDR (West German Radio and Television Broadcasting) where he conducted extensive research into electronic and computer music, algorithmic composition, interactivity, multimedia and sound spatialization.
He also wrote music software and special computer applications for musical analysis and composition. As a visiting lecturer, he taught at the Conservatory of Music and at the University of Liège. From 1996-2004 he belonged to the Board of Directors of the CRFMW (Musical Research Center of Wallonie, Liège).
At the moment Prof. Chagas is teaching at the University of California - Riverside.